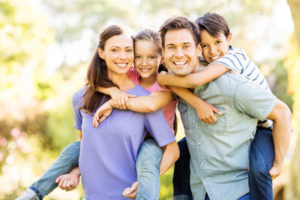 Meals around the dinner table, the bigger bathroom, the house wifi password… you share almost everything with your family. So why wouldn't you go to the same dentist, too? Choosing an excellent family dentist increases the oral health of everyone in the family — and it makes your life easier, too. Keep reading to learn about Dentistry at Hickory Flats today. With a range of services and a passion for smiles of all sizes, we're the Hickory Flats dentist families in our community trust.
Canton's Best Family Dentists at Hickory Flats Dentistry
As the top family dentists in Canton, we know one thing to be true: in dentistry, prevention is key. Small problems aren't painful at first, and you may not even realize anything is amiss. That's why regular dental visits are so important: they give us the chance to check for the little signs that something's off and fix the problem quickly, potentially saving you time and lots of money in the long run.
We want to stop problems like decay and infection before they start.
To do that, we remind all of our patients that brushing for two minutes, twice a day, flossing daily and visiting the doctors at Dentistry at Hickory Flats every six months is vital for the oral health of everyone in the family.
At your six month checkup, we'll check for the warning signs of tooth decay or gum disease and proceed as necessary with treatment. We'll also make sure you're brushing and flossing excellently — and if you've got a child, we can remind you how to care for his or her little smile.
Special Services in Children's Dentistry
The basics of preventive care are practically the same for everyone, but children may need a little more help keeping cavities away. That's because while their permanent teeth are forming, two things are true: they love sweets, and they're probably not stellar brushers and flossers yet. It's a tough combination to beat, but services like the following help:
Dental sealants, clear coverings that are painlessly painted on a child's back teeth to seal out sugar and bacteria.

Fluoride treatments, quick applications of the mineral are an extra step in strengthening a child's enamel against acids and decay-causing bacteria.
Everyone at Dentistry at Hickory Flats is passionate about caring for the littlest smiles — and with friendly faces and special treats after appointments, our smallest patients love us, too.
Schedule An Appointment for Your Family Today
If you're still searching for a Canton family dentist you feel great about visiting, you owe it to yourself to check out the offerings of Dentistry at Hickory Flats. We're committed to providing the ultimate in care for everyone in your family — and we want you all to smile big today, and for years to come. Contact our office to schedule a family appointment today!