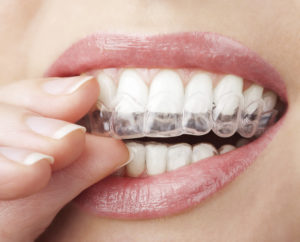 Ah, the advantages of braces… a straight and beautiful smile. Ah, the disadvantages of braces… a "metal mouth" for months and months. For adults, those disadvantages may seem more daunting than the value of the pay-off. But what if you could have the pay-off without trouble of metal braces? That's exactly what Invisalign offers. With Invisalign, Dr. Brian Lee and Dr. Katherine Lee at Dentistry at Hickory Flat in Canton, GA, can straighten your teeth discreetly, so you can maintain your regular social and professional life without concern.

Invisalign uses a series of clear plastic braces, called aligners, to move teeth into their proper alignment. Each set of aligners marks another step toward your straight smile. The aligners are made of BPA-free plastic that is smooth and comfortable in your mouth; you'll never be bothered by metal wires and brackets poking your cheeks or irritating your gums.
Moreover, Invisalign clear braces are removable. Time for a meal? Just take out your aligners and enjoy all of your favorite foods. Time to brush and floss your teeth? Once again, remove the aligners and clean your teeth as usual—a distinct advantage that Invisalign has over traditional braces that often impede good oral hygiene. Have a special occasion? If you'd rather not have anything in your mouth for a while, that's okay. Just be sure to insert the aligners immediately afterwards; Drs. Lee will want you to wear your Invisalign clear braces for about 22 hours each day.
Invisalign in Hickory Flat
Getting your Invisalign clear braces is also less time-consuming than getting traditional metal braces with brackets that must be bonded to your teeth. To start the Invisalign process, we take a series of x-rays, impressions and photographs. These are used by the Invisalign lab to develop a 3D representation of your mouth and smile. We'll use this image to develop a treatment plan, or a sort of roadmap that will lead to your straight smile.
The Invisalign lab uses this treatment plan to fabricate your customized aligners. All you have to do is wear each set of aligners for two weeks and then move on to the next set. Of course, we'll want to see you periodically to check on your progress, but these appointments won't require uncomfortable adjustments like traditional metal braces. And while each patient's time in clear braces is specific to their individual case, most complete treatment in 12 to 18 months.
Call Our Office Today
Are you ready to have a straight smile? Then contact Dentistry at Hickory Flat in Canton, GA. With Invisalign, Drs. Lee can give you all the advantages of a beautiful smile.