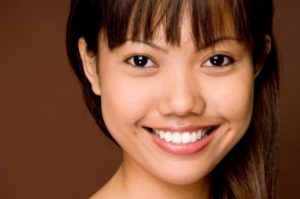 A smile isn't only a sign of happiness, it can also be a sign of confidence. However, if your smile isn't exactly white—maybe you'd describe the color as cappuccino or dusty yellow—then no amount of confidence may be enough to persuade you to smile. If this describes your situation, then consider the teeth whitening Canton, GA, residents trust the most to give them beautifully white and healthy-looking smiles. Zoom! Professional Whitening from Philips has given countless people the confidence to smile and this treatment will do the same for you!

Teeth become stained and discolored for a number of reasons. The most common types of stains we see at Dentistry at Hickory Flat are caused by foods and beverages, such as coffee, tea, cola, chocolate and strawberries. Smoking and chewing tobacco are two other common causes of staining. These types of stains are on tooth enamel or just below the enamel on the dentin layer of your tooth. With time, these stains may penetrate the enamel and actually change the color of the dentin, which can darken the appearance of your tooth.
Other causes of a less-than-white smile include:
Cracks that hide stain-causing food particles and debris
Tooth injury that darkens a tooth
Teeth grinding, which can alter the color of biting surfaces
Some medications, such as tetracycline taken during childhood or some forms of chemotherapy
Genetics
The unavoidable aging process
No matter what is the cause of your dull smile, Zoom! teeth whitening is sure to brighten your teeth and give you the confidence to show your pearly whites to the world. With Zoom! professional teeth whitening, you can have that beautiful smile in less than an hour. One of our experienced dental assistants will place a rubber shield over your gums and lips for protection and then apply the proprietary Zoom! whitening gel to your teeth. This works together with a special light that is directed at your teeth to make your smile up to eight shades whiter in about an hour. All you have to do is sit back and relax, while Zoom! teeth whitening does all of the work. You'll walk away with a smile beaming with confidence!
Call Our Office Today
If you're ready to have a smile that is whiter and brighter, then schedule an appointment for Zoom! teeth whitening with Dentistry at Hickory Flat in Canton, GA.