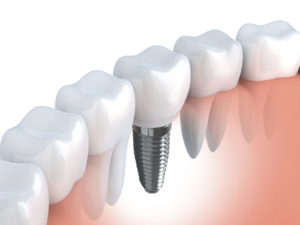 When you're missing one or more teeth, tooth replacement is not optional—it's mandatory. Life with tooth loss can lead to more oral health problems, such as gum disease, malocclusion and even additional tooth loss. In addition, there are the consequences to your general health—malnutrition for one—and to your self-confidence and emotional well-being; no one is comfortable with the idea that people are noticing the gap is their smile. So, the only question is what tooth replacement option is best. Dental implants in Canton, GA, provide stability as well as an attractive smile. At Dentistry at Hickory Flat, Dr. Katherine Lee and Dr. Brian Lee are implant specialists who use this effective form of tooth replacement for one or missing teeth.
What is a Dental Implant?
A dental implant is a small titanium screw that is surgically set in your jawbone. As you heal from this minor surgery, the implant and surrounding bone tissue fuse together in a process called osseointegration. In this way, the implant becomes firmly secured in the bone. Furthermore, your jawbone is less likely to lose volume, because the implant behaves similarly to a natural tooth root and stimulates new bone growth. Once the dental implant is solidly anchored, one of our dentists will attach a porcelain crown for a single tooth replacement or a bridge or dentures to replace several teeth.
The Advantages of Mini Implants
Mini implants, as the name suggests, are somewhat smaller than standard dental implants. These can be used in tight spaces or to secure a full set of upper or lower dentures. The mini implants are positioned along the jaw and angled to take better advantage of your jaw's bone density. For real convenience, we can usually place mini implants and your new dentures in one appointment. This is because mini implants do not require invasive surgery, so the healing time is shortened.
With standard dental implants or mini implants that secure a bridge or denture, you'll be able to once again enjoy a variety of foods. And unlike other tooth replacement choices that require special care and cleaning, dental implants are cared for just like your natural teeth with regular brushing and flossing.
For Dental Implants, Canton, GA, Calls Dentistry at Hickory Flat
To learn more about dental implants, or to schedule a consultation with Drs. Lee, contact the office of Dentistry at Hickory Flat. Drs. Katherine and Brian Lee deliver quality restorative care daily throughout Canton, GA, Woodstock, Cartersville, Calhoun, Acworth, Jasper, Ball Ground, Holly Springs, Alpharetta, and the surrounding communities.