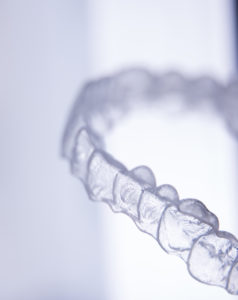 Very few people are born with a naturally straight smile. For the vast majority, treatment with orthodontics is the only way to get a better smile. However, many do not want to have to deal with the unsightly appearance of traditional metal braces. Thankfully, now you do not have to use traditional braces for a straighter smile. You can get the straight smile you have always wanted with clear braces. Invisalign in Canton GA is the most preferred method to align the teeth. Invisalign offers clear benefits when compared to traditional braces, however, the treatment is not right for everyone.

Invisalign vs. Traditional Braces
Traditional metal braces are an affordable and effective treatment that can be used to fix complex alignment and bite issues. By attaching wires and brackets to the teeth, the teeth are pulled into position. While traditional braces have been the go-to solution for decades because they are very reliable and produce amazing results, there are setbacks to this treatment. Treatment with metal braces comes with discomfort, restrictions, and a somewhat lengthy treatment. Not to mention, they are very noticeable.
Invisalign is far different than metal braces, making it a popular choice in cosmetic dentistry. No wires or brackets are used. Instead, clear aligner trays are worn over the teeth to gradually move the teeth into their correct positions. A series of custom-made trays are made. You wear each tray in the series for about two weeks. On average, it takes about 12 months to progress through all of the trays in the series. Many teens and adults have come to prefer Invisalign because the aligner trays are nearly invisible. Plus, there are no restrictions, less discomfort, and a shorter treatment. Overall, Invisalign offers a simpler treatment that's easy and convenient without compromising the quality of the results.
Although Invisalign is effective, the treatment can't be used for complex orthodontic problems, such as severely rotated or tipped teeth, larger tooth spacings, and deep over or open bites. If any of these problems are present, you may need to use traditional braces instead.
Which is Right for Me?
To determine if Invisalign is right for you, you will need to visit your orthodontist for a consultation. Your orthodontist will evaluate your alignment and bite to create a customized treatment plan. If Invisalign is right for you, scans and images will be taken to create a map of your mouth. The trays will then be made for you to wear for an average of 22 hours per day. You are able to switch to the next tray in the series at home, but you will need to come in every few weeks so we can monitor the treatment's progression.
Your Dentist for Invisalign in Canton GA
Dentistry at Hickory Flat offers a comprehensive range of family dental services, including Invisalign in Canton GA. We provide the customized treatment plan you need for a more attractive smile. If you are ready for a better smile, schedule a consultation to see if Invisalign is right for you.