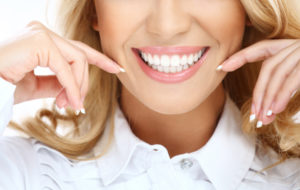 Do stains, cracks and spacing problems affect your appearance and self-image?
Drs. Brian and Katherine Lee of Dentistry at Hickory Flat will totally transform your teeth and gums into a smile you will love to show off. And, it may happen more quickly than you thought possible.
Their impressive menu of aesthetic dental services includes Opalescence teeth whitening, dental implants, porcelain veneers, Invisalign clear aligners and more in their Canton area office. They can tailor make a treatment plan sure to make you smile.
Change up a Healthy Smile
A reputable dentist wants the best for his patients. The doctors at Dentistry at Hickory Flat are no different. Strong tooth enamel, proper bite and alignment, pink gums–preventive dentistry maintains each aspect of good oral health.
But are you embarrassed by your teeth because of old, dark restorations, stains or enamel that is worn and dull? How does your "smile zone" look to those around you?
Dentistry at Hickory Flat tackles the simplest to the most complex of aesthetic dental issues. Drs. Brian and Katherine Lee creates artistically beautiful looks that compliment gender, age and facial symmetry. Both are members of the American Academy of Cosmetic Dentistry; so you know they have the credentials and peer accountability to do the job right.
Consult with the Dentists
During a cosmetic dentistry consultation, Dr. Lee examines teeth, gums and facial appearance and may take X-rays and other kinds of imaging. The dentist asks for the patient's input, or smile goals. From there, the dentist writes a treatment plan for the best possible smile within budget and within the patient's timeframe.
Cosmetic Dental Services
A simple aesthetic service is professional teeth whitening. Dr. Lee uses Opalescence in-office whitening and at-home teeth whitening to brighten tooth enamel stained by food, tobacco and darkly-pigmented beverages. In the office, the whitening process takes about an hour. At home, it may take a week or so. Whatever the version, teeth brighten by several shades with no residual sensitivity. Now that's a quick and easy transformation!
For other enamel defects, Dr. Lee may place porcelain veneers. Translucent shells of fine ceramic, individually-fabricated veneers cover the front side of teeth spoiled by fractures, stains, gaps and even mild overcrowding. Veneers can substitute for mild orthodontic correction,  and they also strengthen enamel. Dr. Lee can install veneers in just two visits.
For the best blend of restorative and cosmetic dentistry, Dentistry at Hickory Flat features tooth-colored fillings, dental implants and porcelain crowns These restorations repair decay, restore missing teeth and cover damaged enamel. The results are natural-looking in form and in function, too.
Finally, have you always wanted a straight smile but hate the idea of metal braces? Then, you could benefit from Invisalign clear aligners or Six Month Smiles. These invisible acrylic appliances reposition crooked teeth into healthy, attractive smiles–quickly and comfortably. Adults and older teens wear them for mild to moderate orthodontic correction.
Sounds Interesting?
Cosmetic dentistry transforms smiles and lives.  Contact Dentistry at Hickory Flat today to arrange a cosmetic dentistry consultation. Smile bigger and better than you ever have before!