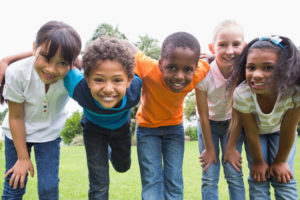 It's been entirely too long since you've hopped on your bike and hit the trails. Right now your lungs are kindly reminding you with each labored breath. You know the pay-off is going to be worth the soreness in your legs tomorrow; you just have to keep pushing. You round the last bend and there it is: a picturesque view of the lake. The water is still and looks like fresh glass. Your parents used to take you up here all the time, and you hope to do the same with your kids when they get old enough. One of them just got their first tooth recently. When should I take them to the dentist? It's only one tooth, why should a professional need to look at it? Your family dentist in Canton has the answers for your child's, as well as your teeth.
How to Get Off To a Good Start with Your Child's Teeth
Many things go through a parent's head when their child has their first tooth. Inevitably there is a sense of relief because teething can be painful for everybody. The other is a rush of questions, the most prevalent being, "When do I need to take them to the dentist?" The American Academy of Pediatric Dentistry recommends that a child should visit the dentist around 1 years old, or 6 months after the first tooth has come in. This is to ensure your child's dental structures are developing in a healthy way. Early check-ups can help prevent many dental issues before they even start. Most major dental problems are hard to spot with an untrained eye, and are especially hard to spot when trying to catch a playful, rambunctious child. These early interventions can help curtail involved and expensive corrective orthodontic procedures. It is also key in this early phase of a child's life to help instill a habit of oral hygiene.
Preventive Dentistry for the Whole Family
Of course, dental hygiene isn't relegated to children. Consistent brushing and flossing are some of the best ways to prevent tooth decay, gum disease, and tooth loss. Drs. Brian and Katherine Lee, along with you, can help teach your children how to properly care for their teeth, as well as show you how to be a good example for them in this regard. Regular check-ups are essential for anyone's teeth in order to maintain optimum oral health. Both you and your children should visit the dentist at least twice a year so you can get a professional cleaning. Each person in your family has different dental needs, which is why we offer a variety of dental services that can do everything from enhancing to restoring your smile. A good start can lead to a smooth road ahead for you and your children when it comes to their oral health. Make an appointment with us today so we can help make better smiles tomorrow.