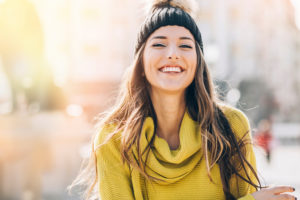 How would you like the appearance of your smile to change? Many people dislike their stained teeth. Others worry that their crooked smiles impact how others perceive them. And then, there's those annoying gaps, chips and hairline cracks. Who wouldn't want to get rid of those? Cosmetic dentists in Canton, Drs. Brian and Katherine Lee understand that a healthy and attractive smile benefits how you feel, look and function. So, they offer several aesthetic treatments designed to optimize the appearance of your smile.
Consulting with Dentistry at Hickory Flat
As a regular patient of Dr. Brian Lee or Dr. Katherine Lee, you are already familiar with their excellent preventive and restorative dental treatments. But, did you know that they can change how your smile looks with just one treatment or with a combination of services?  In concert with their exceptional expertise, you may choose how simple or complex your smile makeover is according to your personal preference, schedule and budget.
When you come to Dentistry at Hickory Flat, the dentist will do a comprehensive oral exam just to make sure all is well health-wise. With a healthy baseline established, Dr. Lee will discuss your smile goals with you and formulate a treatment plan just right for your facial appearance, age and other factors.
For example, do you want to brighten your tooth enamel and fill in a small gap between your two front teeth? Or, do you require bite correction and smile straightening? Whatever the need, you and your dentist can arrive at a workable plan and produce outstanding results.
Offered Cosmetic Services
Both Dr. Brian Lee and Dr. Katherine Lee are members of the American Academy of Cosmetic Dentistry. You can trust their capable hands to use the following services to best advantage when remaking your smile:
Teeth whitening in Canton The dentists offer both Opalescence Boost and Zoom! Whitening. Available in gradual at-home or faster in-office versions, professional teeth whitening changes tooth color by as much as eight full shades. Injury, age, food, beverages, prescriptions and tobacco all darken tooth enamel, but your cosmetic dentist can bring it back to youthful lustre easily.
Discreet orthodontics The dentists offer Six Month Smiles and Invisalign clear aligners for straighter smiles in less time. Six Month Smiles use clear brackets and tooth color wires to reposition teeth located in the front of the mouth. Invisalign acrylic appliances correct minor to moderate orthodontic problems in just about a year without complex hygiene routines, dietary restrictions or obvious appearance.
Porcelain veneers Covering chips, dark stains, gaps and other irregularities, veneers are a permanent cosmetic refurbishment. Individually crafted from fine dental ceramic and bonded to the front of select teeth, veneers beautify and strengthen teeth for a great look.
Composite resin bonding This one-visit process uses a unique combination of glass and acrylic to repair minor dental defects. Bonded teeth blend right in with the color and shape of their neighbors.
Dental implants Melding the best of restorative and cosmetic dentistry, these tooth replacements look, function and even feel just like real teeth. Plus, they reside in the jaw bone, strengthening its size and density.
Look Great and Feel Great
Your new smile from Dentistry at Hickory Flat will change your appearance and your outlook on life. If you would like to speak to Dr. Brian or Dr. Katherine Lee, contact the office today to arrange a consultation. You'll be very glad you did!