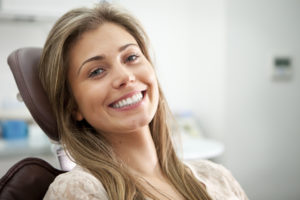 You broke a filling while enjoying a handful of macadamia nuts last week. You know you need to visit the dentist to get this taken care of, but let's be honest – getting the filling a few years back was unpleasant, at best. Since then, you cringe when you think of being in the chair and shudder when you recall the sound of the drill. Luckily for you, the team at Dentistry at Hickory Flat team has advanced training on oral conscious sedation to treat common dental anxiety. Don't let your fears prevent you from getting the treatment you need from your dentist in Canton.
What Is Sedation Dentistry?
Sedation dentistry is a safe, effective way to help relax patients during their dental visits. Since about 1 in 6 Americans suffer from dental anxiety, our team saw a need to bring oral healthcare to patients who are so scared to see the dentist that it eventually leads to severe issues with their teeth. To keep people healthy, Drs. Brian and Katherine Lee prefer to get ahead of the curve by relaxing and treating our nervous patients before they actually have other dental problems – aside from their anxiety – to worry about.
What Is Oral Conscious Sedation?
There are many methods of sedation dentistry, and at our practice, we offer oral conscious sedation. This refers to a sedative medication (usually, a small pill) that is taken orally by the patient. Oral conscious sedation is straightforward, effective, and most importantly – safe.
You'll take a dose of medication at home, before you come into our office. Once you arrive, you'll take another dose before you see the dentist. You'll be awake during your procedures but you'll be able to respond when we engage with you. Even though you'll be conscious, you'll be incredibly at ease and calm while we treat you. A lot of patients report not remembering the dental procedure at all because they are so relaxed.
Since the medicine will make you drowsy, you'll need to arrange for transportation both to and from your appointment. The effects will gradually wear off during the rest of your day, but it's best to plan on not going back to work after you see your dentist.
Should I Be Embarrassed Because I'm Afraid Of The Dentist?
Not at all – while about 15% of people suffer from diagnosed dental anxiety, it is estimated that this condition actually affects up to 75% of patients. Even tough athletes like LeBron James deal with this common malady and there's nothing to be ashamed about. With the help of your sedation dentist in Canton you don't have to be afraid anymore, or worried about being self-conscious of your fears.
Since you now understand how common dental anxiety is, and that we have options to treat this problem, schedule your relaxing appointment today. Make your worries a thing of the past and keep your smile bright with the Dentistry at Hickory Flat team.