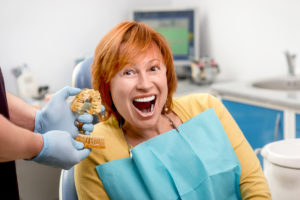 At Dentistry at Hickory Flat, your professional team takes great pride in delivering many preventive, restorative and cosmetic dental treatments–basically whatever you need for a healthy, strong smile. Two featured services are root canal therapy, to preserve infected, severely decayed or injured teeth, and the dental implant, today's superior tooth replacement option that acts just like a real tooth. Your dentist in Canton, Dr. Brian Lee or Dr. Katherine Lee,  is well-qualified to perform both treatments. Here are the details on these marvelous procedures.
What is Root Canal Therapy?
A root canal procedure removes the diseased soft tissue from inside one or more interior tooth chambers (or root canals). Accomplished in just two visits to Dentistry at Hickory Flat, endodontic therapy relieves pain and infection, covering and protecting healthy tooth structure for many years of additional service.
To confirm the need for a root canal, Dr. Lee performs an oral exam and takes digital X-rays and oral impressions. Then, he numbs the area around the tooth and drills a hole into the first root canal. Using several small metal files, he removes the pulp and other debris and smooths the canal walls.
Next, the dentist instills antibiotics and seals the canal with gutta-percha, an elastic substance that supports the tooth. The tooth is covered with a temporary filling, and the patient returns home for a week or so of healing time. At the next appointment, Dr. Lee removes the temporary restoration and places a customized porcelain crown.
Root canal therapy is a reliable restorative treatment that relieves pain and infection and spares a tooth from extraction. In fact, the American Association of Endodontists states that most root canal procedures are very successful.
What is a Dental Implant?
A dental implant is an artificial tooth from root to crown. It replaces one or more teeth, supports fixed bridgework or even anchors full dentures.
Dental implants play an important role in restorative dentistry. Because not all ailing teeth can be spared, extraction may be the only option. To avoid the jaw bone recession and gum deterioration common to tooth loss after extraction, Dr. Lee usually recommends a dental implant as the best way to fill that smile gap and preserve oral function.
Made of a titanium implant screw, metal alloy extension post and customized crown, the dental implant resides right in the patient's jaw bone, Inserted into the jaw during a simple, in-office surgery, a dental implant actually strengthens the jaw every time the patient bites and chews on it. This amazing healing process is called osseointegration.
Additionally, dental implants are very versatile. Dr. Lee may use them to support bridgework or dentures, citing their ease of care and longevity for people who have sufficient jaw bone and good overall health.
Do You Have a Worrisome Tooth?
Please contact Dentistry at Hickory Flat for a consultation on your painful or otherwise compromised tooth. You can trust the advanced skills and knowledge of your dentist in Canton for your best smile solution.