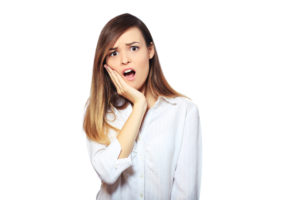 The health of your teeth is important to you, which is why you have been proactive about your dental health. However, even with the best care, an issue can arise that compromises your oral health. If the issue is severe, such as significant decay or infection, you may be left with the decision to have an extraction or a root canal, but which is the best option? Your dentist in Canton will perform a comprehensive examination to determine which route will be the best solution.

Root Canal vs. Extraction
When a tooth has become seriously compromised, the easy option may seem like an extraction is best. However, every tooth in your mouth serves an important role. When even one is missing, your oral health and functions will start to decline. Therefore, it is not a decision that should be made in haste. An extraction is only recommended when it can no longer be saved with another treatment, like a root canal.
A root canal can save severely damaged teeth, such as those that have large amounts of decay, disease, or dead pulp. If it is still viable, this procedure is often recommended to save it from needing to be removed. However, there are times when even this is not an option.
If the tooth has a large cavity or the overall structure of it is compromised, an extraction may be the better option. This is often the case if there is a severe fracture that extends below the gum line or tooth decay has significantly weakened it.
Saving Your Tooth from an Extraction
Extractions are avoidable in many cases if you do not delay having a damaged tooth treated. As soon as it becomes compromised, have it treated right away to prevent the problem from worsening. By doing so, it will help to rehabilitate its health so it can stay in place. Often, a root canal will be used to do this.
A root canal is an endodontic procedure that removes the pulp of the tooth, which is the inner most layer. Then, it is sterilized and sealed using a special material known as gutta-percha. A customized dental crown is placed over it to give it an added layer of protection while restoring its appearance and function.
If you wait too long to have the tooth treated, an extraction will be inevitable. After it is removed, you will immediately need to have it replaced with a dental prosthetic.
Protect Your Smile
If you have a severely damaged tooth, do not wait until it is too late. Have it treated right away to preventing it from needing to be removed.
About Dentistry at Hickory Flat
At Dentistry at Hickory Flat, we strive to help each patient reach optimal health and wellness through comprehensive dental care. We work to ensure that your teeth last for a lifetime; however, if they become damaged, we offer the high-quality care you need. If you are facing a tooth extraction, please contact our office to discuss all your options.