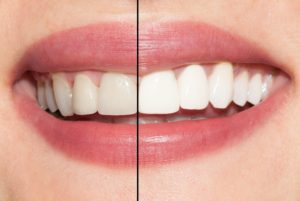 If you're feeling like your smile has lost a bit of its dazzle, the good news is that it's easy and cost effective to brighten your teeth with a whitening treatment. Teeth whitening has become a billion dollar industry, and with good reason because you have numerous options to choose from when it comes to attaining a whiter smile. Your cosmetic dentist in Canton explains your choices so you can select the treatment that best meets your needs.
Over-the-Counter Whitening Products
There's a wide array of choices for teeth whitening when you visit your local grocery store. While these products may be effective, you should first consider the result you're trying to achieve before purchasing one.
The whitening gel that your dentist has access to is much higher concentration of hydrogen peroxide (30-40%) and carbamide peroxide (35%), which are the key ingredients of whitening gel. In comparison, generic products contain only 10% hydrogen peroxide and 0% carbamide peroxide.
This means that it may take much longer for you to achieve your desired results with store bought products.
The Benefits of Professional Teeth Whitening
Your dentist can offer a few benefits with teeth whitening that over-the-counter products cannot. First, you'll receive customized whitening trays designed to fit snug over your teeth and protect your soft tissues from excess whitening gel. If you choose in-office whitening, a protective barrier is used to block any whitening gel from your gums.
Next, you'll be working with higher strength whitening gel so you're going to notice results quickly, and even right away if you go with in-office whitening. Your dentist's gel often contains ingredients that reduce any sensitivity you might feel too, so you are more comfortable throughout the process.
Finally, working with your dentist to whiten your teeth is always advisable in case you encounter any issues. Your dentist can adjust the strength of your whitening gel to suit your needs, and advise you on managing sensitivity if you encounter it.
Whether you are thinking of trying a store bought whitening system first, or going with a professional whitening option, consult your dentist first to ensure you're on the right path for your needs.
About Dentistry at Windermere
Drs. Brian and Katherine Lee comprise the highly skilled dental team at Dentistry at Windermere. They work together to provide families in Canton, GA with comprehensive dentistry, and they've been serving this community for nearly 15 years.
If you'd like to contact our doctors they can be reached through our website, or by calling 770-205-1212.