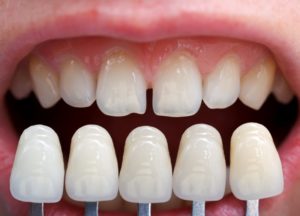 As businesses realize the mass appeal of porcelain veneers, they gain the incentive to create more alternatives for future patients. Your dentist is aware of these expanded options and wants to make it easier for you to understand how these newer brands differ from the traditional route. If you're tired of seeing chips or imperfections in your smile and want to jump into the veneer market, let your dentist make it a smoother process by comparing the varying traits of dental veneers.
What Are Minimal Prep Veneers?
Minimal prep or no-prep veneers are wafer- thin covers for your teeth that take up less space than a traditional porcelain veneer. There are several different companies that produce minimal prep veneers, including Lumineers, Vivaneers, and Durathin Veneers. Like traditional veneers, these are adhesively bonded to the front surface of your teeth to hide cracks, chips, and any discoloration in your current teeth.
How Do They Compare to Traditional Veneers?
Minimal prep veneers are like traditional veneers in many ways, except for one key difference. Typically, no-prep veneers do not require the dentist to grind or file down an existing tooth as much to properly place them. While certain cases may require minimal reduction of the tooth surface, it's less common for minimal prep veneers. The reduction of enamel truly depends on the condition of the current tooth the veneer is covering.
Patients getting minimal prep veneers are also less likely to need local anesthetic, making the process quicker and more comfortable. Traditional veneers often require filing down the tooth to make room for the veneer and since tooth enamel does not grow back, this process is irreversible. The amount of buffing needed for an ultra-thin minimal prep veneer that companies like Lumineers provides is significantly less than a traditional veneer. This also allows them to be easily removed if ever necessary.
When Should I Consider Minimal Prep vs. Traditional?
There are many problems that minimal prep veneers can solve, including:
Chipped or cracked teeth
Misshapen or slightly misaligned teeth
Discolored or stained teeth
Slightly crowded teeth
Gaps and spaces between teeth
Small teeth
If your aim is to cover minor imperfections or stains in your teeth, you would prefer to keep more of your enamel, and you'd like to save more money, minimal prep veneers may be your best option. However, if your teeth are considerably affected or you're looking for a more durable option, porcelain veneers may be better for you in the long run.
Set up a consultation with your dentist to determine your eligibility for veneers today!
About the Author
In 2003, Dr. Brian Lee earned his dental degree from The University of Michigan School of Dentistry, one of the nation's top dental schools. Afterwards, he moved to New York to complete his residency program over the next three years. There, he earned the title of Resident of the Year. To learn more about the process of porcelain veneers or set up a consultation, you can contact Dr. Lee at (770) 213-8166 or visit his website.