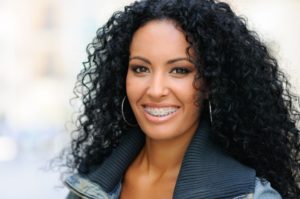 If there's anything that people want to change about their smile, it's usually the alignment of their teeth. Many people experience gapped teeth, crooked teeth, or overcrowded teeth and want a solution. Why? There are many problems that come with having orthodontic issues and many benefits to correcting them.
Learn about your orthodontic treatment options and their benefits from your cosmetic dentist in Canton in this week's blog post!
The Benefits of Straightening Your Smile
You may be surprised to know that the benefits of having straight teeth extend far beyond improved smile aesthetics. According to the American Dental Association (ADA), improving the alignment of your teeth can make positive changes in your overall dental health! In turn, your overall body's health will also get a great boost, too!
If your dentist has told you that you have crowded teeth, a crossbite, an overbite, an underbite or even an open bite (all that stem from malocclusion) you should consider correcting your issue with effective orthodontic treatment. Why? You can avoid these dental hygiene problems:
Crowded teeth lead to difficulty during the dental hygiene routine, which result in increased risk of plaque and bacteria buildup.
Plaque and bacteria lead to gum health problems and systematic health issues.
Tooth decay and gum disease are caused by bacteria, left untreated, can lead to a number of dental concerns in themselves.
You face losing your natural teeth in the future from experiencing dental concerns like decay or advanced gum disease.
What Are Your Orthodontic Options?
Everyone's mouth is different. Everyone's dental concerns are different, too. Plus, there are factors like lifestyle choices and a patient's budget that also come into play when considering orthodontic treatments. That's why our office believes in providing a variety of ways to straighten your teeth, including:
Invisalign® Clear Braces that use custom clear aligners to gently push teeth into their correct positions.
ECligner® Invisible Braces are similar to the Invisalign treatment. You can discuss the differences with your dentist during a scheduled consultation.
Six Month Smiles® Accelerated Braces will help you achieve a straighter smile within less than a year!
Traditional Braces have been a tried and true way of achieving long-lasting results.
Whether you're unsure about which is best for you or would just like to receive more information about the benefits of each orthodontic treatment, the best thing you can do is schedule a consultation to discuss them with your local dentist.
---
About Our Office
Here at Dentistry at Hickory Flat, we want everyone to experience the benefits of a straight smile with a treatment that fits their smile and budget. That's why we highly encourage meeting with our experts to discuss options, evaluate your smile, and discuss your goals. We would be happy to schedule your next visit with us today!