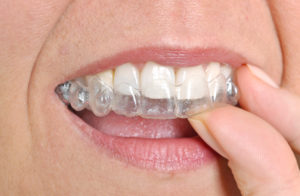 Have you wanted to straighten your teeth since you were a child, but circumstances in the past hadn't allowed for it? Now that you're an adult, you still have to live with a crooked, gapped smile and you can't wait to straighten it any longer.
Thankfully, your dentist has more than one way to align your smile correctly—and you don't have to rely on traditional brackets and wires to achieve the smile you want. Let's explore your adult orthodontic options, like Invisalign in Canton, in this week's blog post!
Adult Orthodontic in Canton
Invisalign Clear Braces
The Invisalign straightening system is created from a series of personalized, smooth, clear aligning trays that are crafted just for you. These custom clear aligners apply incremental pressure with each tray to push your teeth into their correct places, straightening your smile for good.
You can benefit from the Invisalign system in many ways because you can smile confidently when you are in the middle of your orthodontic treatment and even remove your trays to eat your favorite foods! Explore the many benefits that Invisalign offers when you consult your dentist about your best orthodontic options.
ECligner Invisible Braces
ECligner invisible braces are similar to the Invisalign system, which means that this is yet another great alternative for adults and teens alike! It's best to compare the benefits that the ECligner system offers compared to Invisalign so you can get the most out of your orthodontic treatment. Learn more from your dentist with a scheduled consultation.
Six Month Smiles® Accelerated Braces
This orthodontic treatment is pretty simple and straightforward—it straightens your smile right around 6 months' time! Rather than having to face embarrassment from years of metal brackets and wires, or the discomfort that traditional options hold, you'll enjoy accelerated progress that effectively straightens your smile. Plus, Six Month Smiles in Canton is crafted from tooth-colored brackets and wires to blend seamlessly among your natural teeth.
Traditional Braces
Although many patients prefer a more modern way to get straighter teeth, traditional braces have been a tried and true way to help patients—even with the most complex cases—to achieve the results that they want.
Don't Wait Any Longer—It's Time to Explore Adult Orthodontics
As you can now probably tell, patients that choose to visit our office have many choices for orthodontics in Canton that are made to help you in a convenient way. Plus, our options help to keep our patient's confidence in tact with the ability to hide your orthodontic treatment!
If you want to speed up your straightening process, it's time to schedule a consultation with your dentist sooner than later. This way, they will be able to evaluate your current state of oral health and develop a plan  that includes your best fitting orthodontic treatment.
---
About Our Office
Here at Dentistry in Hickory Flat, we take our patient's comfort and convenience very seriously. That's why we always offer alternative ways to help people achieve their best smile. Learn more about how we can help you by giving us a quick phone call!