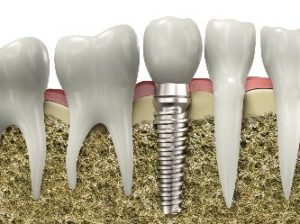 Did you know that 178 million people in the U.S. are missing at least one tooth and that more than 36 million have no teeth at all? Unfortunately, missing teeth can lead to a lot of unpleasant consequences, like feeling embarrassed or self-conscious in social situations and not being able to eat your favorite foods.
The good news is that regardless of how many teeth you're missing, you have choices when it comes to replacing them. Dental implants and full or partial dentures in Canton are all options. The question is: Which one should you choose? In this blog, we'll help you answer that question by reviewing some good-to-know information about all of these choices!
How Do Dentures Work?
For many decades, dentures were the only replacement option for missing teeth. With prosthetic teeth attached to a metal or plastic framework, they can restore the appearance of the smile and the ability to chew.
While both full and partial dentures can make a big difference for any patient who has lost their teeth, there are some drawbacks:
Bone loss – Since dentures only replace the crowns of the teeth, not the roots, the body begins to reabsorb the jawbone. Over time, the bone will shrink and become smaller and less dense.
Stability – To stay in place, partial dentures rely on clasps attached to the remaining natural teeth and full dentures rely on suction and adhesive. This provides enough stability to restore some chewing power but might make it difficult or impossible to chew certain foods.
Fit over time – Due to gradual, continual bone loss, dentures will lose their fit over time and require regular dental visits for adjustments and re-linings.
Slips – Due to poor fit, dentures can slip during conversation or meals.
One way of overcoming these issues is the use of dental implants or an implant-retained denture.
How Do Dental Implants Compare?
An implant is a titanium post that's placed in the jaw to take the place of a missing root. After it's integrated, or fused, with the surrounding jawbone, it's ready for a crown to complete the restoration. To secure a full denture, four implants are usually used per arch.
Implants are widely regarded as a superior option to dentures for several reasons:
Stability – An implant will feel much more solid and stable than a denture. It will provide close to the same chewing power you had with your own teeth, so you won't have to avoid hard or tough foods.
Longevity – With basic care and maintenance, implants can last decades, if not a lifetime.
Bone mass – Implants trick the body into thinking that roots are still present. That means that the jaws will maintain their size and mass over time.
In the end, implants will look and feel more like your own teeth than any other option!
About the Author
Dr. Brian Lee is a general, restorative and implant dentist who has seen firsthand how dental implants can restore not only the smile but also the self-confidence and overall quality of life of any patient who has lost their teeth. He knows that each patient's needs and goals are unique and always recommends the best treatment plan for each individual. If you have any questions, he can be reached via his website or at (770) 213-8166.