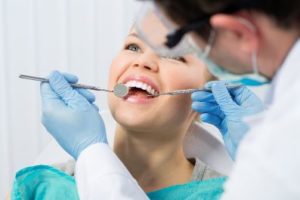 Going to the dentist isn't at the top of anyone's "Favorite Things To Do" list.  In fact, it's not uncommon to put it off altogether, but regular dental care is crucial because it prevents many problems before they start. But don't worry if it's been a while since your last visit to a dentist in Suwanee! You might imagine that it will be a terrible experience, but people are pleasantly surprised when they find out that it's much easier than they expected. Keep reading to learn about which problems a dentist might find and what your checkup will include!
What Are Some Potential Problems You Might Have?
It's not uncommon for patients to develop oral health problems if they haven't seen a dentist in a while. There's no guarantee that you'll have these issues, but it's still helpful to be aware of them:
Gum disease – The earliest stage of gum disease is called gingivitis, and it's very common. Symptoms include swollen, tender or bleeding gums, but at this stage, it can be reversed with regular cleanings and good hygiene habits. However, gum disease becomes more serious when it's untreated and can lead to tooth loss in advanced stages.
Cavities – Even if you're not in pain, you can still have cavities! Sometimes they're small enough that they haven't reached the nerve yet. Other times they're so large that the nerve has "quietly died" and you don't have an indication that there's a problem.
Old dental work – Dental work lasts a long time, but it still needs to be replaced eventually. A checkup is a perfect opportunity to find out if any of your dental work is getting ready to fail.
Although you may have some of these issues, the good news is that they're all treatable! If it turns out that you do need any treatment, a dentist will review your options and the pros and cons of each choice.
What Can You Expect at Your Checkup?
Here's a general idea of what will happen at your checkup:
History – A checkup will start by discussing your medical and dental history and any current issues you're concerned about.
Images – The next step is taking X-rays to evaluate the parts of your mouth that a dentist can't see with their eyes alone.
Gum evaluation – Either a dentist or hygienist will gently examine your gums to determine whether you have gum disease.
Cleaning – If your gums are reasonably healthy, you'll have a routine dental cleaning to remove plaque, tartar and stains.
Exam – A dentist will thoroughly examine your mouth, do an oral cancer screening and discuss any treatment needs you might have.
Many patients feel nervous if it's been a while, but they always say it was much easier than they thought it would be. And remember, not only will you feel a huge sense of relief after your checkup, you'll also be glad you've made an investment in your oral health!
About the Author
Dr. Brian Lee is an award-winning general, cosmetic and restorative dentist who is always able to put his patients at ease, no matter how long it's been since they've had dental care. His goal is to provide care in a judgment-free environment so patients can achieve great oral health without fear or embarrassment. If you have any questions, he can be contacted through his website or at (770) 213-8166.