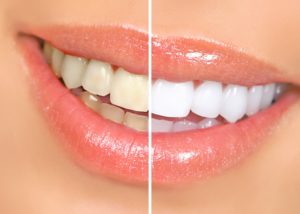 Has your smile lost its luster over the years? Do not worry. It is a natural part of the aging process. Unfortunately, your teeth can suffer from accelerated discoloration due to various factors, such as poor oral hygiene, darkly pigmented foods or drinks, and smoking. No matter the cause, it can leave you feeling insecure about your appearance. You have tried over-the-counter whitening products to reverse the stains, but they left you dissatisfied with the results. You are not out of options. You can get a bright smile with Opalescence from your cosmetic dentist.

Why are My Teeth Discolored?
Your teeth are composed of 3 layers: the enamel, the dentin, and the pulp. Your enamel is the hard outer layer you can see. It protects the underlying layer, called the dentin. Underneath the dentin is the pulp, which is the nerve center of your tooth.
As you age, your enamel becomes thinner, causing more of the dentin to be visible. It naturally has a yellowish hue which is why your teeth start to darken as you age. In addition to age, eating or drinking darkly pigmented foods and drinks frequently cause stains, as well as tobacco use and poor brushing and flossing habits.
Why Don't Home Products Work?
Although over-the-counter whitening treatments are convenient, they are not effective for reversing tooth discoloration. They do not contain professional-strength whitening agents, so they cannot penetrate your enamel. They can only slightly improve surface stains, but the results usually do not last.
How Can I Get a Bright Smile?
To get the lasting, noticeable results you want, it is best to see your cosmetic dentist. The preferred whitening system is Opalescence. Using an active whitening ingredient of either carbamide peroxide or hydrogen peroxide, the solution is applied to your teeth to react to the discolored molecules. It weakens the bonds that hold them to one another while the oxygen molecules spread over the tooth. This makes your smile several shades whiter by deeply penetrating the pores in your enamel.
How Long will My Results Last?
With the right aftercare, your new smile can stay bright for several years. To protect it against future stains, it is best to:
Brush your teeth twice a day using a fluoride toothpaste and soft-bristled toothbrush.
Floss nightly.
Do not smoke or use tobacco.
Limit contact with stain-causing foods and drinks, like coffee and berries.
Brush your teeth or rinse your mouth with water after consuming anything that may stain your smile.
Visit your dentist twice a year for a cleaning and checkup.
Get a Bright Smile Today!
Do not hide behind tooth discoloration. Get a bright smile today with Opalescence.
About Dentistry at Hickory Flat
Dentistry at Hickory Flat delivers compassionate high-quality dentistry using the latest advancements and procedures. We help our patients achieve a healthy, beautiful smile with general and cosmetic dentistry. If you are ready to reveal a younger-looking, bright smile, contact our office today to see if teeth whitening is right for you.