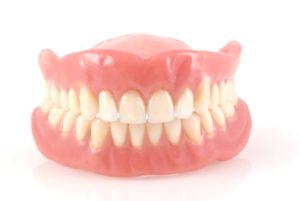 Are you struggling with missing teeth? You're not alone. Research shows that 120 million Americans are missing at least one tooth. Fortunately, modern dentistry has many ways of treating this common condition. Three of the most popular options are traditional dentures, dental implants, and implant-supported dentures. Each approach is worth discussing with your dentist.
Traditional Dentures: The Classic Approach
Dentures have been around in one form or another for thousands of years. With that kind of track record, it's no surprise that they offer solid benefits for dental patients. At the same time, they also suffer from a few drawbacks. Here's a look at both the good and the not-so-good:
Traditional dentures are available in both full and partial versions. This means they can replace all the teeth on the upper and lower jaw or only those that are actually missing.
On the other hand, traditional dentures are held in place either by metal clasps or liquid adhesives. This means they can sometimes fail at the worst possible times, like in the middle of a meal or social event.
Long-term traditional dentures are crafted to match the individual patient's oral profile. This makes them a comfortable and effective approach to restoration for many people.
On the other hand, traditional dentures are not a perfect replacement for missing teeth. The patient may need to modify his or her diet, practice discretion when speaking or singing, and use care when engaged in exercise or sporting activities. Some people have difficulty adjusting to these changes.
Dental Implants: State-Of-The-Art Restoration
Implants were created to offer patients an alternative to traditional dentures. They require oral surgery and the treatment process occurs over a period of a few months. Nonetheless, they're currently considered the state-of-the-art in restorative dental care. Here are the key benefits they offer:
Full restoration of missing teeth. Dental implants look and behave just like healthy natural teeth. They cannot come loose and require no adjustments to the patient's lifestyle.
Ease of care. Once dental implants are in place, the patient only needs to follow a few basic self-care guidelines. These include brushing, eating a sensible diet, and visiting the dentist as recommended for checkups and cleanings.
Standard dental implants are not the best option for everyone. Some people may lack the underlying bone structure to support a tooth-by-tooth restoration. These people may want to consider implant-supported dentures instead.
Implant-Supported Dentures: The Best of Both Worlds
Implant-supported dentures use the same underlying approach as other dental implants, with one key difference. Instead of a separate implant for each restored tooth, there is instead a series of 4-6 implants spread out across the upper or lower jaw. These support a specially designed set of dentures that replace multiple teeth all at the same time.
Unlike traditional dentures, the implant-supported version cannot come loose accidentally. Yet the patient can remove the appliance for cleaning or to tend to other personal tasks. Many people find this the best way to achieve their restorative goals.
The tips in this post are meant as general guidelines only. Use them along with your dentist's guidance to make an informed decision. For many people, either traditional dentures or some form of implants can be the key to a restored smile.
About the Author
Dr. Brian Lee has been practicing dentistry for more than 15 years. Dr. Lee earned his DDS degree from the University of Michigan School of Dentistry, considered one of the top dental schools in the country. He's originally from Marietta and enjoys being back in his home state. You can reach his office online or by calling (770) 213-8166.