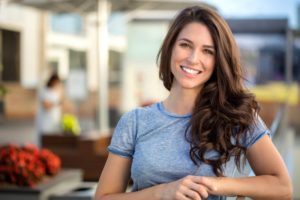 What's the most memorable part of any great first impression? According to nearly half of Americans, the answer is "a great smile." Plenty of people would love to improve their pearly whites, but what's the best way to do it? Different patients will need different kinds of cosmetic treatment; if you're thinking of getting a smile makeover, here are 4 ways to make it happen!
1. Teeth Whitening
Over the years, you might notice that your teeth just aren't as white as they used to be, whether it's a simple matter of age or the result of drinking coffee every morning. While there are over-the-counter products that can help brighten your pearly whites, a professional treatment will work faster and help fix more severe cases of discoloration. You can have a whitening procedure done at the practice; it's a good way to create dramatic results within an hour! If you'd rather fix the problem in the comfort in your own home and don't mind waiting a couple of weeks to see improvements, you can get a professional take-home whitening kit instead.
2. Porcelain Veneers
Are there a lot of cosmetic flaws in your mouth that you wish you could fix all at once? Porcelain veneers – wafer-thin covers placed over the front of your tooth – can be used to correct all kinds of imperfections, including chips, cracks, broken or misshapen teeth, misalignment, notable spaces, and discoloration that doesn't respond to traditional whitening. As a bonus, porcelain is stain-resistant, and the restoration can last for up to 15 years if you take good care of it.
3. Gum Recontouring
Do you see just a bit too much gum whenever you open your mouth? Do your teeth look way shorter than they should? Your dentist can use a laser to gently remove excess gum tissue, revealing more of your ivories and creating a more well-proportioned grin. Sometimes this procedure is needed to place a dental crown, in which case it's usually called crown lengthening.
4. Full-Mouth Dental Reconstruction
If you've suffered from years of gum disease, tooth decay and facial injuries, you might think your teeth are too damaged to repair, but that doesn't have to be the case! By using different kinds of restorations (such as dental implants, fillings, dentures, crowns and bridges) and performing necessary oral surgery, your dentist can make a brand-new smile for you that's as healthy as it is beautiful.
Before you decide on any kind of cosmetic procedure, you should schedule a consultation at a dental practice you trust. Be sure to tell your dentist in Canton what kind of improvements you want to make and set realistic expectations for yourself. Take the initiative and get started on creating the smile of your dreams!
About the Practice
At Dentistry at Hickory Flat, our three dedicated dentists all work together to ensure that they can address all of their patients' dental needs while still giving them the one-on-one treatment they deserve. They offer teeth whitening, porcelain veneers, and several other solutions for cosmetic dental problems. To schedule an appointment, visit their website or call (770) 213-8166.