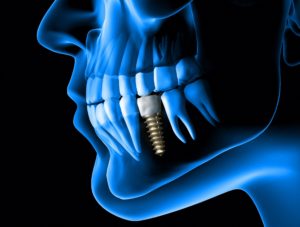 Dental implants are the most successful tooth replacement option. In fact, they are proven to last for a lifetime with the right aftercare. Their long-term viability is attributed to the materials used to recreate the entire structure of a tooth, including the root. Before the post is even inserted into the jawbone, your dentist uses advanced technology to foster the success of your new smile. While there are several innovations, the CT/Cone Beam Scanner is influential in creating the groundwork your dental implant needs to thrive.
CT/Cone Beam Scanner for Dental Implants
Your dentist will rely on a CT/Cone Beam Scanner through various stages of your treatment to promote the overall success of your dental implant. Although there are other imaging methods, the CT scan provides greater information and detail than what's available using other techniques. This helps remove any room for error when planning and placing the dental implant post. Here's how the imaging equipment will enhance your treatment process.
Preparing for Dental Implants
A CT scan shows more than just the bones. It also gives details about the soft tissues, nerve pathways, sinuses, and other vital oral structures. This allows your dentist to see if there are any issues brewing beneath the surface that need to be addressed before your placement surgery, like infection or bone loss.
Based on the results of the scan, your dentist may determine there isn't adequate bone density to support a dental implant; therefore, you may need additional treatments, such as a sinus lift or bone grafting, to create the strong foundation your new smile needs to succeed.
Implant Placement Surgery
Besides using the imaging to determine your candidacy for dental implants, the scan is also used to pinpoint the precise location for the titanium post. Your dentist uses the images along with computer-guided technology to place your post into the precise location to support your custom-made restoration. This allows them to avoid any vital tissues or structures that can lead to complications, like your nerves or sinus cavities. It also ensures the post is placed into the exact location necessary for your jaw to support it long-term.
Benefits of a CT/Cone Beam Scan
When the CT/Cone Beam Scanner is used with the dental implant procedure, it provides a variety of benefits, including:
Reduced room for error.
Reduced surgery time.
Quicker recovery.
Fewer complications.
Less discomfort.
Precise placement of posts.
Improved aesthetics.
Choose Advanced Technology
You can invest in your smile with the next best thing to your natural teeth. Ensure your dental implants thrive with the right technology by your side.
About Dentistry at Hickory Flat
Our team is dedicated to helping our patients achieve optimal wellness through a healthy smile. We deliver the advanced solutions patients need to treat even the most complex issues, like tooth loss. Besides traditional treatments, we can replace your missing teeth with dental implants. We embrace the latest technologies to ensure the success of your new smile. If you're ready to benefit from the best, contact our office today to schedule your consultation.