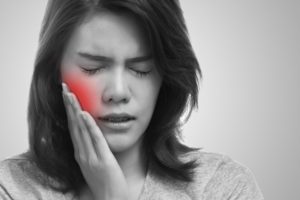 There are many different types of toothaches. While some can be easily treated at home, others may require a trip to your Canton emergency dentist. Unfortunately, there is a wide variety of factors and issues that could be causing that discomfort in your mouth. Understanding what type of dental pain you are experiencing is your first step towards regaining your pain-free smile. Here are three common types of toothaches and what you can do about them.
Sensitivity to Hot or Cold Temperatures
Do you feel a sharp pain in your teeth when eating ice cream or drinking hot coffee? This typically means there's an issue in your enamel. If the sensitive inner layers underneath the enamel are exposed, they become aggravated by temperatures. Fleeting pangs of tooth sensitivity are usually the result of:
Enamel that has been worn down by overbrushing or an acidic diet.
A developing cavity.
If using a desensitizing toothpaste and cutting back on acidic foods doesn't ease your tooth sensitivity, you may need to see your dentist. However, teeth that are extremely sensitive for more than 30 seconds after being exposed to hot or cold temperatures could be a warning sign of a more substantial issue, like:
A cracked or chipped tooth.
A cracked or lost dental filling or crown.
Gum recession or exposed tooth roots caused by gum disease.
Leaving any of these problems untreated could lead to much more serious oral health complications like infected teeth or tooth loss. To keep your smile healthy and intact, you should visit your dentist right away.
Pain or Discomfort When Chewing
If you experience a sharp, stabbing pain while chewing, you may have:
A damaged tooth, filling, or dental crown.
An infection in the pulp of your tooth.
An accumulation of pus and bacteria around the tooth's roots.
A cracked tooth or dental restoration needs to be repaired before an infection develops or permanent damage is caused. If your pain is being caused by an infection, your dentist will be able to clean out the dangerous bacteria before they spread to the nearby teeth.
Sharp, Throbbing Pain with Swelling
A sharp, throbbing pain in your teeth is typically associated with a dental infection. Many people seek treatment for this type of toothache because of how constant and painful it is. Your dentist can take an x-ray of the area to determine where the infection is and what treatment would be most effective against it. However, a serious dental infection can be life-threatening, so call your Canton emergency dentist immediately if your toothache is accompanied by:
Swelling in the jaw, face, or neck.
Fever, fatigue, or redness.
The tooth is loose or darkened.
Whatever type of toothache you're experiencing, you should always see your dentist for a professional diagnosis and treatment. With their help, you'll be back to enjoying your happy, healthy, and pain-free smile in no time!
About the Practice
Dr. Brian Lee and Dr. Katherine Lee of Dentistry at Hickory Flat have been providing excellent dental care to the Canton, GA area for more than a decade. While they much rather prevent oral health issues from happening in the first place, they have years of experience treating dental emergencies like toothaches. With advanced dental technology and options in sedation dentistry, they can treat your tooth pain as quickly, comfortably, and effectively as possible. If you need urgent dental care, don't hesitate to contact them via their website or at (770) 213-8166.