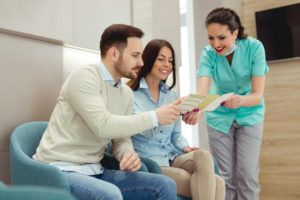 Are you currently shopping for dental insurance? Whether you're not satisfied with your old policy or you're signing up for the first time, deciding on the right plan is an important task. All of the choices you have before you can seem somewhat overwhelming. That's why we've created this guide on some basic factors you should consider when shopping for dental insurance.
PPO vs. HMO
Although there are several different types of plans, PPO and HMO (sometimes also called DHMO) are the two most common. HMO plans are more restrictive because they require you to visit a specific dentist, and you can't see a specialist without a referral. Therefore, most people opt for a PPO plan, which lets you use your coverage at virtually any practice.
What Does Your Plan Cover?
If you're just looking for a plan that helps you maintain your already great oral health, you can pick almost any plan. Most policies cover preventive care, like cleanings, at 100%.
However, some plans with low premiums only cover preventive care. Even if you diligently brush and floss every day, it's in your best interest to select a plan that mitigates the cost of restorative procedures. Most PPO plans cover minor services, like fillings, at 70-80% and major treatments, such as dental crowns and root canals, at 50%.
If you're interested in a special kind of dental care, like orthodontics or dental implants, examine the specific coverage details of a potential policy. Some plans offer partial coverage for these services, while others don't.
Consider the Waiting Period and Deductible
With most plans, you must wait six to twelve months before you can receive anything except preventive care. However, if you've already had dental insurance for a year or more, your new company might waive your waiting period.
Your deductible is the amount you have to pay out-of-pocket before your insurance begins covering your care. For the majority of dental plans, the deductible is between $50 and $100 per person. If a plan has a deductible that's much higher than that, you might be better off choosing a different plan.
Don't let all of the options for dental insurance stress you out! The above information can help you choose a plan that can help you keep your smile healthy for years to come.
About the Practice
At Dentistry at Hickory Flat, our team of three compassionate, expert dentists understands that it can sometimes be hard to pay for dental work. This is why we wholeheartedly believe that dental insurance is one of the best investments you can make, both in terms of your oral health and your bank account. Our friendly team members can go over your plan and help you make the most of the benefits you qualify for. We are an in-network provider for a large number of dental insurance plans, including Aetna PPO, Cigna PPO, and Delta PPO. Additionally, we offer discounts for uninsured patients and low-interest loans through CareCredit. To learn more about us, visit our website or call(770) 213-8166.