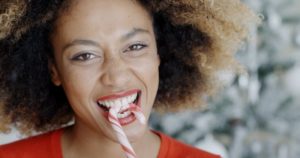 As we get closer and closer to the holiday season, you're undoubtedly looking forward to all of the yummy dishes you're going to enjoy. You're already aware that many quintessential holiday foods aren't exactly healthy, but did you know they're also bad for your teeth? Unless you want to spend the holidays with your dentist in Hickory Flat due to a painful toothache or cracked tooth, it would behoove you to learn how to maintain great oral health at this time of year. Here are a few of the best and worst holiday foods for your smile.
Eat This…
Instead of going overboard on sugary treats this year, try some of these mouth-healthy alternatives:
Turkey. You don't need to feel guilty about this holiday staple. Turkey is rich in phosphorous, which works with calcium to strengthen your teeth.
Nuts. Speaking of calcium, nuts are a great way to get your daily dose of this valuable mineral. They also contain plenty of nutrients like iron and magnesium. Just be sure to not crack them with your teeth. It's the perfect time of year to take that nutcracker off the shelf and let it shine!
Cheese. Don't stray too far from the cheese platter! In addition to being an excellent source of calcium, cheese has antibacterial properties and lowers acidity in your mouth, reducing your risk of cavities.
…Not That
As delicious as some classic holiday foods are, they can have some oral health consequences that will leave you feeling not so jolly. Try to avoid or limit the following:
Eggnog. As much as you might adore this holiday favorite, your teeth are not a fan. Eggnog is packed with sugar, dramatically increasing your risk for tooth decay. Plus, drinking it with alcohol can give you dry mouth.
Candy canes. These treats are delicious and can even be decorative when you hang them on the Christmas tree. However, sucking on them bathes your teeth in sugar for quite some time, giving bacteria ample time to cause cavities. Biting on them could fracture a tooth, which can be painful and expensive to treat.
Chocolate. Milk chocolate contains lots of sugar, which fuels cavity-causing bacteria in your mouth. Luckily, dark chocolate doesn't have as much sugar and isn't as harmful. When it comes to chocolate, the darker the better.
As you enjoy the time spent with family and friends this holiday season, try to keep your oral health in mind. By making smart decisions about the foods you eat, you can start the new year off with a bright, healthy smile!
About the Practice
At Dentistry at Hickory Flat, we have a team of three compassionate, expert dentists who always want to see your smile shine no matter what time of year it is. We treat patients of all ages in the Canton, GA area and offer multiple preventive services, such as fluoride treatments to reduce your risk of cavities. To learn more about us, visit our website or call (770) 213-8166.