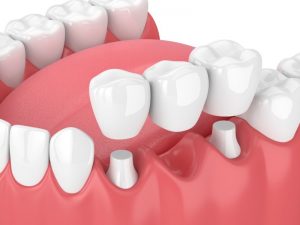 If you're missing one or even several teeth in a row, a dental bridge is a great way to rebuild your smile. Modern advancements in dental technology have made bridges look and feel more like natural teeth than ever before. They're usually made with high-quality materials that allow them to last for a decade or more with the right care. Unfortunately, even the most well-made bridges will not last forever. Here are the four most common causes of dental bridge failure and how you can make your replacement teeth last as long as possible.
1. Poor Dental Hygiene
The most common reason for dental bridge failure is neglecting to brush and floss often enough. Although your bridge itself is immune to decay, the two teeth supporting the bridge (called the abutment teeth) can still develop cavities if you don't clear away plaque and bacteria. Take the time to clean around your bridge to keep the teeth underneath it strong.
2. Inadequate Support
An uneven distribution of weight on your abutment teeth can also lead to dental bridge failure. Over time, these teeth may suffer from trauma and become weaker as a result. To prevent two of your healthy teeth from sustaining damage, you could ask your dentist if your bridge can be supported by two dental implants that are secured in the jawbone.
3. Cheap Material
Bridges can be made from all kinds of materials, including plastic. While this gives you more affordable options, you tend to get what you pay for in terms of dental work. Plastic bridges may be cheaper up-front, but they're not as lifelike or durable as other materials like porcelain. Your dentist can help you find the most cost-effective solution to ensure your new smile lasts for years to come.
4. Weakened Jawbone
When a tooth is lost, that area of the jawbone loses the stimulation it once received from the tooth's roots. Traditional bridges don't replace these roots, so the jawbone will start to lose density. Eventually, your remaining teeth will not have the support they need to hold your bridge in place, causing the bridge to fail. Dental implants stimulate the jawbone, keeping it strong enough to support your new teeth.
Protect the Investment You Made in Your Smile
With the right at-home care, your dental bridge can last for 10+ years. Make sure to brush, floss, and visit your dentist for a checkup and cleaning on a regular basis.
About the Practice
Our three expert dentists at Dentistry at Hickory Flat – Dr. Sean Van Tuyl, Dr. Katherine Lee, and Dr. Brian Lee – are dedicated to providing high-quality dental care to the community of Canton, GA. They can create and place lifelike dental bridges and even perform every step of the dental implant process in-house for added convenience. For more tips on avoiding dental bridge failure, visit their website or call (770) 213-8166.